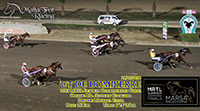 After dominating the Le Prix de Vincennes final in June, Ut de Dompierre was again at its best to win its second Maltese top class trot championship, the Malta Race Track Limited Premier class Summer Championship final on the longer 2,640m distance.
Driven impeccably by Michael Ellul, this 10 year old French trotter left no doubt about its intentions shooting ahead as soon as the autostart closed its gates, followed by Un Marceaux and Truscott du Guepre, with the other horses bunched together.
Once he took the rails, Michael Ellul paced the race for Ut de Dompierre keeping the helm at a constant speed but without overdoing it.
The race however came to life around 1,200m from the end, when favourite Okay dei Ronchi left its mid-field position and sprinted three wide to creep up to third place behind stablemate Truscott du Guepre.
This move made Ut de Dompierre increase the pace to up the stakes on its followers. However those who thought that this was this horse`s top gear were proved wrong with half a lap to go, when Michael Ellul requested and obtained a strong sprint from its charge to increase its lead to two and a half lengths from the ever-present Truscott du Guepre, Lajos Cella and Okay dei Ronchi.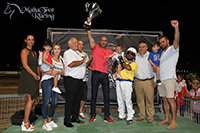 From then on it was game-over as Ut de Dompierre maintained its sprint to the end with a triumphal march down the final straight, unperturbed by its competitors, winning comfortably by around two lengths from the strong-finishing Okay dei Ronchi (Rodney Gatt), followed by Lajos Cella (Paul Galea), Truscott du Guepre (Jesmar Gafa) and Un Amour du Pont (Andrew Farrugia) in that order.
Thus Stephen and Alfred Ciangura`s Ut de Dompierre was the clear winner of this year`s MRTL Summer Championship Premier class final, claiming its fifth seasonal win in the joint seasonal best time on the 2,640m distance of 1`14`3 per kilometre.
Here under find a quick link to the video of the race: