This is the week leading to the top racing event on the Maltese Islands - the B.O.V. TAZZA l-KBIRA 2014to be run on the 27th April. We are this year celebrating the 80th Anniversary since this cup was first held an it stands to reason that a great celebration is in preparation for this anniversary.
The race will be held on the traditional 2640m distance. It will be the 6th race of the 18th Meeting of the year and it is expected to start at 16:35.
The Participants and their drivers are:
1. OLTEDO DE RIEUX - Charles Camilleri
2. SULTAN NOVEMBER - Shaun Portelli
3. PERCEVAL - France Cassar
4. PACHA DE LA FRETTE - Claudio Refalo
5. MADAM DI POGGIO - Herman McKay
6. CLORIA VICTIS - Charles Degiorgio
7. ORAN - Julian Farrugia
8. POPPES FIGHTER - Paul Galea
9. POULOUD KEROC'H - Chris Vassallo
10. THE BAD ROCK - Rodney Gatt
11. QUIET WAY - Peter Paul Said
12. PAT DE FONTAINE - Noel Baldacchino
Malta Trot Racing would like to wish all participants the best of luck!!
We are also here presenting our commemorative poster of the participants.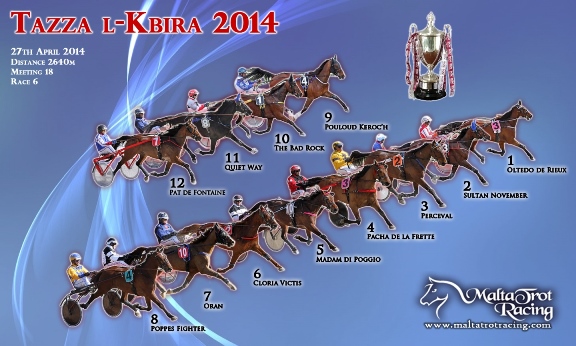 Click to Open image in a larger format