The Johnnie Walker Cup Final is going to be held next Sunday. This year this was open to Category Gold trot horses for which 41 enlisted to participate.
Four heats were held on Friday 17th October from which 20 horses went on to the semi finals raced yesterday and now we have the names of the 10 horses that will take part next Sunday in the final. This will be the 7th race of the programme starting at 16:00 hours and over the 2140m distance.
The total prize money in this final is 1600 Euro with the winner getting 900 Euro. Four trophies were also commissioned for the occasion and the winning horse will also get a commemorative blanket. Apart from this the winning owner will receive a bottle of Johnnie Walker Blue Label, the second placed a Johnnie Walker Platinum, the third a Johnnie Walker Gold Reserve and the fourth placed will receive a bottle of Johnnie Walker Double Black Label.
The Johnnie Walker Cup is one of the oldest trophies associated with local horse racing. Many think that this trophy has always been just for flat racing but in fact this is not true. Actually it was the first ever championship held for trotters when the new track was inaugurated. Three heats were held on 24th May 1981 which were won by Faci de Beauzeval, Flaminius and Fust with the latter going on to win the final on 7th June 1981 driven by the legendary Anthony Cassar (In-Noqqu).
This prestigious trophy had been inaugurated in 1939 and in these recent years it had been associated with the local thoroughbred racing. Last year this was won by Kimberley Downs partnered by Michael Sultana.
After last year's huge success the sponsors M.Demajo (Wines & Spirits) Ltd through their Marketing Manager Mr Alfred Braddick, decided that this year they wanted something different and on a larger scale so it was decided that this year the Johnnie Walker Cup will be associated with trotters of the Gold Category.
Today the draws for the numbers behind the autostart we done in front of participating owners and drivers. This is always one of the determining factors of a race and very important for everyone.
1. New Star D.K.
2.Panda des Fleches
3.Sigurd Speed
4.P.A.Surprise
5.Markus Klipp
6.Reader Jyl
7.Quito de Femisson
8.Argus Hanover
9.Obelix Molgard
10.Veikko Hornline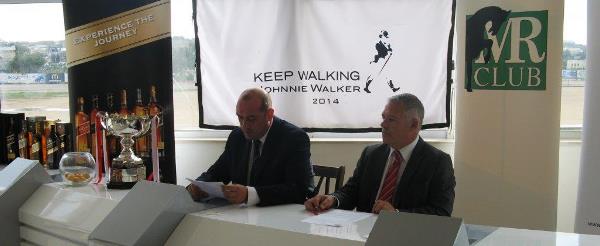 Press Release
Malta Racing Club